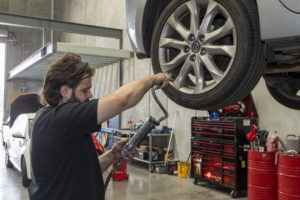 When it comes to tyre repairs & replacements, Balfour automotive Service in Sunshine North is the one to rely on. We have set standards for tyre repair and replacements by offering high-quality repairs and genuine tyres from popular brands. At Balfour Automotive Service, we check the size of rupture, damaged area, and the number of repairs that the vehicle tyre undergoes. Before a tyre undergoes any repairs or service, we will perform an external examination. If any of the below following issues are visible to you, then your vehicle tyre should be inspected & replaced if necessary.
Signs Of Tyre Damage
If the tread depth is below 1.6 mm, know that your vehicle tyre is not safe to drive.
If the tyres are damaged by potholes or any sharp objects on the road, it will lead to puncture and other issues.
If you have a punctured or damaged tyre, it's essential to get expert advice as to whether the tyre should be repaired or replaced.
At Balfour Automotive Service, you'll find fully qualified mechanics that will be able to assess your tyre and advise you whether it's suitable for repair or replacement. It's not about the type of damage on the tyre that matters, it's also the damaged area and the tyre model.
Our Tyre Repairs Includes,
Check the tyre pressure
Tyre punctures and other tyre issues
Inspect the tread depth of the tyre
Replace the old tyre with a high-quality tyre that suits your vehicle
Check for run-flat tyre
Replacements are done when required
If your vehicle tyre hasn't been changed for years or it's showing signs of wear or damage or you are concerned about internal tyre damage, consult a professional at Balfour Automotive Service who can guide you on whether your vehicle tyre needs a repair or a replacement. We have a collection of branded tyres for all makes and models including affordable ones & high-end models. Depending on the type of tyre you need, we'll fix with you a new tyre that matches your vehicle in terms of performance and appeal.
So, if you're looking for tyre repairs or replacements across Sunshine North, call Balfour Automotive Service on (03) 9366 0769 today.