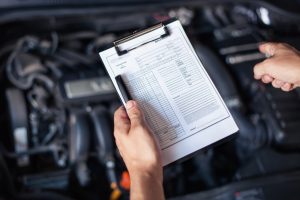 A roadworthy certificate is proof that your vehicle is in good condition, and is safe to travel on the road. If you're looking to get a roadworthy certificate for your car, our professional car repair shop in Sunshine North is here to help you. We have a mechanic team to inspect every aspect of your vehicle to get it approved for a roadworthy certificate.
Whether you are selling a vehicle or re-registering or buying a used vehicle, you should have a roadworthy certificate to ensure that your car is ready and safe on the road.
At Balfour Auto Service, we provide top-class roadworthy inspections, and hand the certificates right to your door, anywhere in Sunshine North. Our team of mechanics helps you with the right information before the vehicle test to ensure that your vehicle passes for the first time itself.
We are a licensed vehicle tester in Sunshine North offering the roadworthy certificate after going through a complete inspection of your vehicle.
 Our Roadworthy Inspection Includes
Thorough check-up of wheels and tyres
Steering & suspension systems
Lights & reflectors
Full vehicle body and engine inspection
Inspecting seat belts
Window screen wipers & washers
Our mechanics are experienced vehicle inspectors who can help you with the process, and resolve all the mechanical issues that are bothering your vehicle. We will provide car services to fix any tune-ups and other repairs to get your vehicle ready for the road.
If you require a complete check on the condition of your vehicle, we guide you with proper techniques to ensure that you meet the standard requirements required for the test. When you choose us, you are assured to get the right guidance in undertaking roadworthy tests.
For more information on roadworthy certificate, call Balfour Auto Service at (03) 9366 0769 today.