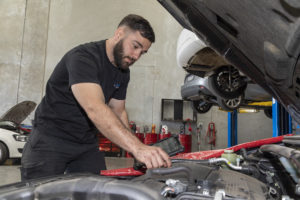 Have some time for your car diagnostic test? If your car needs a diagnostic check, let Balfour Automotive mechanics help you. Our mechanics equipped with the latest diagnostic testing tools will ensure that everything is working properly. Also, keeping a check on your vehicle's performance is vital to the longevity of your car. If you see the engine light blinking or your vehicle is not giving a smooth ride, getting a diagnostic check done as soon as possible from us could save you time and money.
At Balfour Automotive Service, we provide a comprehensive car diagnostic service for your vehicle. We check for power issues, damaged parts, and even corroded wiring that might be downgrading your vehicle's performance. Our car diagnostic service helps our customers get back on the road peacefully without any stress. Contact us for a diagnostic auto repair quote today.
Ranging from the latest car repair technology to hands-on experience and advanced diagnostic methods, we have set standards for what we do. It makes our customers come back to us.  We use the latest diagnostic tools, offer the best replacements, and handle all types of latest automobile models. Our highly skilled mechanics simplifies the repairs with the latest techniques and help you get back on the road as fast as possible.
Why Should You Choose Us?
High-quality repairs & in-depth inspection
100% Customer satisfaction
Expert maintenance & Genuine replacements
Customized repair solutions for all types of vehicles
We understand that your vehicle is an investment. So, we make our car service costs reasonable, which sets us apart from the rest. Our exceptional maintenance of vehicle allows you to have a smooth driving experience in the long run. We provide quality assurance standards for servicing your vehicle and help you get moving safely and happily.
Looking for professional car diagnostic services across Sunshine North? Call us on (03) 9366 0769 today.