WELCOME TO BALFOUR AUTO SERVICE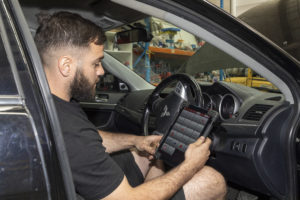 Balfour Auto service is a family run and owned business located in the Western Suburbs. At Balfour, we cover everything from basic logbook servicing right through to any mechanical repair. We specialise in the fixing and rebuilding of transmissions.
We are one-stop-shop sourcing and supplying all your vehicle requirements.
Kon and Yioti are two dedicated and hardworking brothers who have over 20 years' experience in the trade between them.
We have done the majority of our learning on the latest models and have dealership knowledge working with some of the most common car brands (e.g. Holden, Ford, Honda, Hyundai, Jeep, Kia, Citroen and Peugeot, Renault, Isuzu).
Our experience comes from working with our father. Our father has had his own automotive business for over 35 years. Balfour Auto Service have now decided to continue the family mechanic legacy and build on what our dad has done in the industry and grow our own family business.