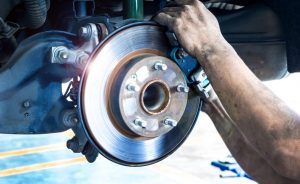 Brakes are a complex system in a vehicle that needs to be inspected from time to time. When it comes to brake service, you have so many options; however, when you come to Balfour Auto Service, you're guaranteed to get the best car service at a competitive price. You and your passenger safety lies in the condition of your brake system, so they should be inspected at least once a year to determine the condition of the hydraulic system and the other components. At Balfour Auto Service, we provide a complete check of the entire braking system including the friction components pads, rotors, and drums need attention because they wear out frequently and are less noticed.
Signs Of A Failing Brake System
Your brake pedals can be worn-out or depressed deeply to the floor.
Squealing or sharp grinding noise comes when you apply the brakes. Some other brands of brake pads have a built-in device that produces a high-pitched noise.
Your steering will not be under control, and your vehicle pulls to another side when you apply the brakes.
Grinding or bumping noise when you stop.
If there is any strange noise that comes when you apply brakes, that's affecting your ride, you must get them inspected by licensed & certified mechanics like us.
Based on our inspection, we inform you whether the components needs a replacement or a slight tune-up. All the parts that we install are guaranteed to meet or exceed the manufacturer's standards. Our mechanics are also experts in servicing even the advanced braking systems in modern vehicles.
Why Should You Choose Us For Brake Service?
We provide a comprehensive inspection of your car's entire braking system.
Pads, pedals, and all other components will be replaced.
Wheel bearings will be inspected and replaced if needed.
We ensure that your brake hardware system is properly lubricated with the brake fluid.
we inspect the condition of the brake fluid and change them
The hydraulic system is made free of air and adjusted properly.
The drums and rotors should be replaced if they are out of specification.
Every car repair or service that we perform at Balfour Auto Service will meet the manufacturer's standards and above all, we never compromise on the quality. If you're looking for a brake repair service across Sunshine North, call us on (03) 9366 0769 today.