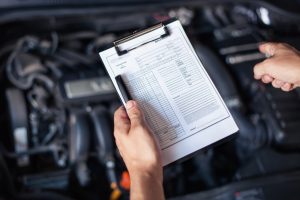 Are you looking for roadworthy inspections across Footscray? Balfour Auto Service is an authorised car repair shop in Footscray offering quality roadworthy inspections across Footscray and its surrounding areas. A roadworthy certificate shows that your vehicle is safe enough to be used on the public road. It is sure to curb the accidents that happen due to poorly maintained vehicles. When you come to us, we will inspect your vehicle in all aspects and ensure it is qualified for the test.  Our mechanics will perform a series of checks on your vehicle to ensure that your vehicle is in good condition or not.
We will also check your logbook service to see whether all the maintenance's are carried out. At Balfour Auto Service, we insist our customers maintain their logbook services for better resale value and safety. As a licensed vehicle tester, we offer the roadworthy certificate after going through a complete inspection of your vehicle. In case if you need a comprehensive check on all the components of your vehicle, you can tell us.
Our Roadworthy Inspection Includes
Complete check-up of wheels and tyres
Steering & suspension systems
Lights & reflectors
Full vehicle body and engine inspection
Inspecting seat belts
Brake system
Window screen wipers & washers
When it comes to safe driving, it's all in your vehicle. So, ensure to follow all the manufacturer recommended maintenance car services. A roadworthy certificate is a solid proof that your car is safe on the road. If you're looking to pass the test, we can provide a complete inspection on the condition of your vehicle and make quick fixes, tune-ups and repairs to requires to pass the roadworthy test. When you choose us, you can be confident about undertaking roadworthy tests.
For more information, about roadworthy certificate, you can call Balfour Auto Service on (03) 9366 0769 today.