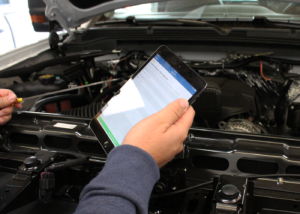 We understand that finding a vehicle that's right for you can take some time. However, if you find the one, it may be tempting to finish all the process and get to the driver seat. Before you do that, you need to ensure that your vehicle is worth the buy and a pre vehicle inspection from Balfour Auto Service can help you. Our licensed mechanics will give your vehicle a thorough inspection to determine the cosmetic, mechanical, electrical, and safety condition of your vehicle. Through the inspection, our mechanic will pinpoint the issues and highlight the components that need replacements or repairs at the first place. So, you can make an informed decision as to buy them or not or negotiate the price with the seller.
At Balfour Auto Service, when we say vehicle inspections we don't mean basic checks or tune ups, we offer a fully detailed inspection that covers all the electrical, mechanical and cosmetic aspect of your vehicle. Our pre purchase vehicle inspection includes
Test drive to inspect the performance
Brake & engine system
Battery & electrical check
HVAC check
Car coolant & emission check
Odometer check
Engine oil check
And much more
Why Choose Us?
We provide the solid and accurate information about the condition of the vehicle and ensure it worth the buy.
Whatever model you have, our certified service technicians will inspect them thoroughly and ensure to provide a detailed report.
We have a team of experienced mechanics to do the inspection and you will receive our honest report about the vehicle.
We have helped thousands of customers buy their dream car with satisfied inspection reports and saved them getting less from what they deserve.
Our professional inspection will tell you what's wrong and what's right with your vehicle, so you decide whether to take up the car offer from the seller or leverage the price value.
If you're looking for pre-purchase vehicle inspections across St Albans, call Balfour Auto Service on (03) 9366 0769 today.